Services
Note: All measurements are approximate.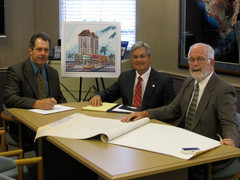 Real Estate Brokerage
An important objective of Corbin Henderson Company since its inception has been to combine a strong local knowledge of the Real Estate Market with an equally strong understanding of our clients business. This allows us to better serve our individual clients by matching the best real estate decisions given their unique organizational requirements.
Property Management
Whether you want to be actively involved or prefer to delegate responsibility, we'll design a property management program that meets your needs.
Our commercial real estate property management services include:
Active Tenant Retention - Promote retention by promptly addressing tenant concerns.
Strict Monitoring of Lease Terms - Carefully enforce the terms of tenant leases and review collections with the bookkeeper on a regular basis.
Accurate Bookkeeping - Provide accurate and timely information, so that revenues are maximized and operating expenses controlled.
Proactive Building Maintenance - Meet with the maintenance staff weekly to review pending work orders and repairs in order to manage long-term property preservation and short-term cash flow considerations.
Construction Coordination - Manage everything from major construction projects to paint and simple repair work.
Consulting
As a result of market expertise, our developer and investor clients rely on us to identify market opportunities or to coordinate project design in order to insure that a project meets market demands.
New Project Development
How Can We Assist You?  Contact Us Today.